The Spring Box Full Reveal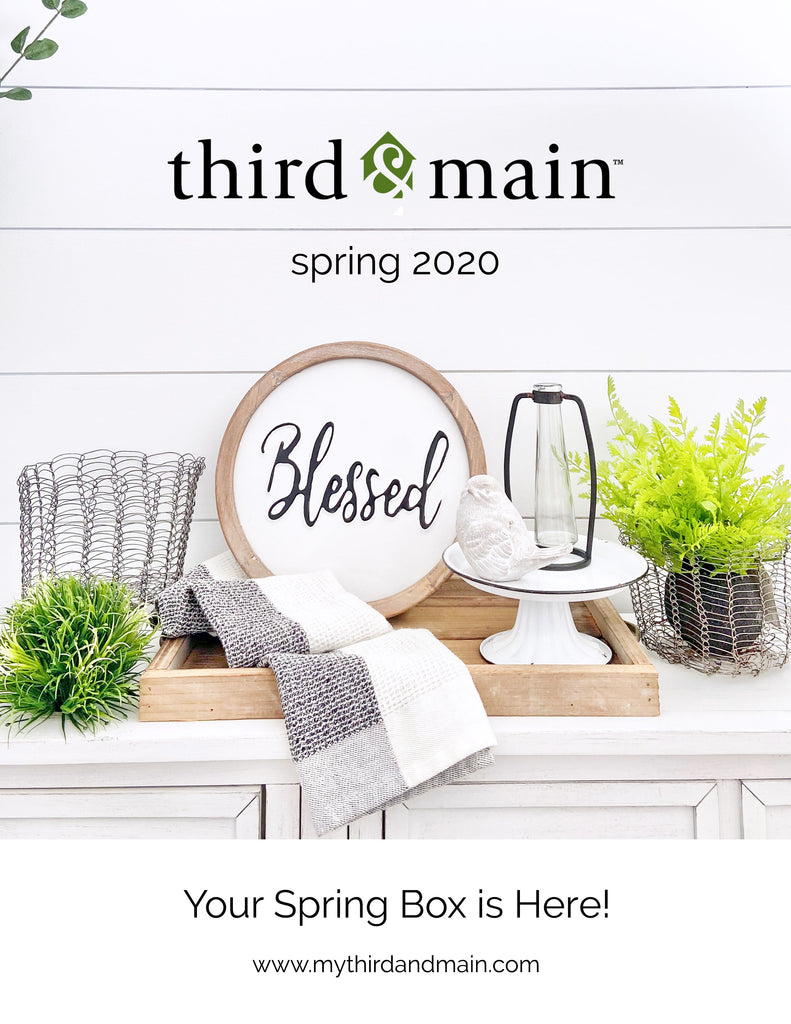 The Spring Box Included The Following Items: 
Choice of 12" Enameled Sign with Wood Frame OR 11" Enameled Utensil Holder
Enameled Pedestal 8" Diameter 
Glass and Metal Bud Vase (1 of 2 versions)
Fern with root ball 11.5" Tall
Indian Tree Spurge Table Piece 6" x 5"
Decorative cement or resin bird
Hand/Dish Towel (1 of 3 versions)
12" Round Wood Framed Embossed Metal Sign 

OR


11 3/4" High Enameled Utensil Holder, Distressed White w/ Black Trim
Function or Decorative (but let's be honest, they can be both, right!) For those of our subscribers that felt they have enough signs, we offer up an alternative option with a super cute and functional utensil holder. They are both substantially sized and both bring in more of the enameled goodness to your decor! 
You will be contacted via email for your selection after your order is placed.
Enameled Pedestal 
How cute is this enameled pedestal?! It is 8" in diameter and 4" high. We love it styled with items from the box - (we are looking at you grassy pouf and glass and metal vase) - but we think it has some major functionality points too. It would be equally as cute on a dressing table with lotions and perfumes, next to your sink with dish and hand soap with a sweet succulent or plant mixed in, or add a textured towel and display cupcakes at your next party. Anyway you style it, you are going to score big in the cuteness and functionality departments.
Glass & Metal Stem Vase
(One version will be included)

We love how glass and metal add a bit of modern and industrial to our farmhouse decor. These stem vases are perfect for that sweet flower a child picks for you or dramatic enough for a beautiful rose or tulip and everyday enough for a sprig of green (not included). You will fall in love with either vase that will be included in the box. Another fun surprise to see which one you will get. 

Set of Baskets
(One version will be included) 
A set of two larger wire baskets or a set of three smaller baskets will be included in each box! Either option, there are endless ways to use them. We featured them styled in a bathroom to house decor and essentials, but use them anywhere you can use a little stylish organization. Think about styled on a coffee table to house your controllers or in your office or even on your kitchen table with napkins.
Fern with Root Ball
This fern with a root ball is a substantial and perfect size for adding fresh green into your home. We love how real it looks and love how the root ball adds stability to place it in an included basket (even fits in utensil holder if you go that route!) or on its own tucked into any vignette. Fern measures 11.5" high.
Indian Tree Spurge Table Piece

Remember those pedestals we included in the Fall Box?! Well, we find a way to repurpose them for every season. Introducing the sweetest little grassy pouf that you ever did see. The Indian Tree Spurge is approximately 6" x 5" and is mounted on a flat bottom which makes it easy to add to any tablescape. One included in each box. 
Decorative Cement or Resin Bird
A decorative bird is included in every box. It's the perfect accent to add a whimsical vintage feel to your Spring displays.
Textured Hand or Dish Towel 

One of three versions included in each box.
$129 One Time Purchase 
Now $119 
Shop Now
Shipping included to most locations. See
Past Boxes
.